Today EUR weaknesses give the Greenback and Loonie a chance to pick up some gains
02.03.2023
Today EUR weaknesses give the Greenback and Loonie a chance to pick up some gains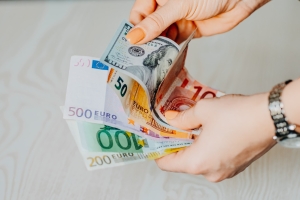 Today's expected range for the Canadian Dollar against the major currencies:
US Dollar         1.3550-1.3650
Euro                 1.4400-1.4500
Sterling            1.6250-1.6350
WTI Oil (opening level) $78.17
The US Dollar index is marginally stronger morning as it was able to make some small gains against both the Euro and Pound. February inflation in the Euro Zone came in slightly higher than expectation at 8.5% but it was not as bad as some investors feared as regional inflation numbers earlier this week spooked investors into fearing a big jump. EUR.USD fell about 60 points to trade at 1.0620 this morning so overall a positive night for the US Dollar in a quiet market.
The Loonie is basically unchanged this morning against the US Dollar and with the weakness in the Euro it was able to pick up a little strength against both the Euro and Pound. Overall, a very quiet session for the Loonie and it should remain range bound for the day.
A very quiet calendar for the rest of the week, it will kick off again next week when we get the employment numbers for February, after a flat day yesterday stocks are pointing higher on the opening so the Greenback may give back a little of the overnight strength.
Comment (0)
Also read
16.06.2021
Today's expected range for the Canadian Dollar against the major currencies:
US Dollar         1.2150-1.2250
Euro                 1.4700-1.4800
Sterling            1.7150-1.7250
05.10.2021
Today's expected range for the Canadian Dollar against the major currencies:
US Dollar             1.2550-1.2650
Euro                     1.4550-1.4650
Sterling                1.7100-1.7200
07.06.2021
Today's expected range for the Canadian Dollar against the major currencies:
US Dollar         1.2050-1.2150
Euro                 1.4650-1.4750
Sterling            1.7075-1.7175