The latest Chinese economic news stressed the North American market and pushed the U.S. Dollar up
08.08.2023
The latest Chinese economic news stressed the North American market and pushed the U.S. Dollar up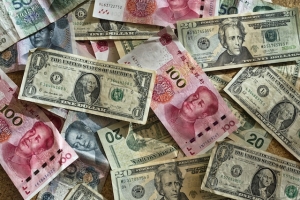 Today's expected range for the Canadian Dollar against the major currencies:
US Dollar         1.3400-1.3500
Euro                 1.4700-1.4800
Sterling            1.7100-1.7200
WTI Oil (opening level) $80.59
The US Dollar index is much stronger this morning as it has moved higher on the back of what appears to be a Chinese economy that is not recovering from Covid as fast as economists hoped. The Dollar also picked up some strength from Friday's employment report that showed a slowing rate of US job creation but still has a robust jobs market that is supporting an economy trying to avoid a recession.
The Canadian Dollar opens the shortened week much weaker as USD.CAD has jumped to a new high near 1.3470 (0.7424) which is the currency pairs highest level since early June. A disappointing July jobs report that showed the economy lost jobs last month and a resurgent US Dollar have all helped to push the Loonie much lower against most currencies this morning and the prognosis for short-term strength for the Loonie is not looking good at the moment.
The Dow Jones jumped over 400 points yesterday but is set to give most of that back on the opening today as the Chinese economic news from last night has made the North American market nervous. The TSX was closed yesterday so it has a bit of catch-up to do but I won't be surprised if it also falls back today and the Loonie continues to suffer.
Comment (0)
Also read
04.02.2021
Today's expected range for the Canadian Dollar against the major currencies:
US Dollar         1.2750-1.2850
Euro                 1.5300-1.5400
Sterling            1.7450-1.7550
19.07.2021
Today's expected range for the Canadian Dollar against the major currencies:
US Dollar         1.2750-1.2850
Euro                 1.5000-1.5100
Sterling            1.7450-1.7550
20.04.2021
Today's expected range for the Canadian Dollar against the major currencies:
US Dollar         1.2500-1.2600
Euro                 1.5050-1.5150
Sterling            1.7450-1.7550