The stock market took advantage of the latest Fed's interest rate announcement
03.11.2023
The stock market took advantage of the latest Fed's interest rate announcement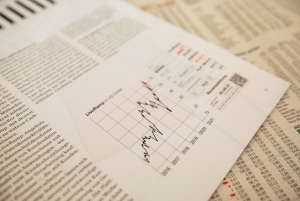 Today's expected range for the Canadian Dollar against the major currencies:
US Dollar        1.3700-1.3800
Euro                1.4550-1.4650
Sterling           1.6750-1.6850
WTI Oil (opening level) $82.87
The US Dollar index is again weaker this morning as it is set to close out the week on a negative note following on from the Fed announcement that their cycle of interest rate hikes may be at an end. Stocks continue to benefit from the announcement as the Dow Jones was higher yesterday by some 2% and the TSX followed suit with strong gains. With other central banks also poised to end their hiking programs it still is uncertain just how far the Dollar will drop but for the short-term we should still see some negative sentiment for the Greenback.
The Canadian Dollar continues to pick up some strength against the Loonie as USD.CAD opens the day near the 1.3750 (0.7273), the rate has fallen about 150 points since the Fed announcement on Wednesday.
Today's calendar has the October releases for both US and Canadian Employment, in the US the pace of job growth is expected to slow to 180K down from the September number of 336K while in Canada the market is expecting 22.5K jobs to have been created which would be down from the 68K jobs created in September. We should see some volatility in the currency market surrounding these releases as well as in the stock market which at the moment looks to have a flat opening.
Comment (0)
Also read
05.02.2021
Today's expected range for the Canadian Dollar against the major currencies:
US Dollar         1.2750-1.2850
Euro                 1.5300-1.5400
Sterling            1.7500-1.7600
25.01.2023
Today's expected range for the Canadian Dollar against the major currencies:
US Dollar             1.3350-1.3450
Euro                     1.4500-1.4600
Sterling                1.6425-1.6525
13.06.2022
Today's expected range for the Canadian Dollar against the major currencies:
US Dollar             1.2825-1.2925
Euro                     1.3400-1.3500
Sterling                1.5600-1.5700