The Canadian dollar was trading higher than the Greenback due to the turn of crude's price and higher point for stocks
29.03.2023
The Canadian dollar was trading higher than the Greenback due to the turn of crude's price and higher point for stocks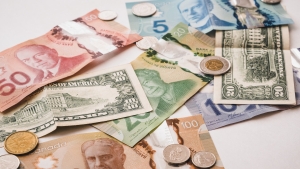 Today's expected range for the Canadian Dollar against the major currencies:
US Dollar         1.3550-1.3650
Euro                 1.4700-1.4800
Sterling            1.6725-1.6825
WTI Oil (opening level) $74.10
The US Dollar index is relatively stable this morning in a quiet overnight session as markets continue to return to an uneasy calm in the wake of the latest banking crisis. If there are no more banking surprises investor focus will return once again to market fundamentals and the question of what will a US recession will look like will dominate the conversation.
The Canadian Dollar was able to pick up some strength yesterday and into the overnight session with USD.CAD falling to trade below the 1.3600 (0. 7353) level, the Loonie also made some small gains against other currencies so overall a strong moment for the Loonie.
Nothing of note on the calendar today and stocks are pointing higher on the North American opening so the US Dollar should continue to trade a little weaker and the Loonie may pick up a little more strength as the market decides what comes next.
Comment (0)
Also read
01.09.2021
Today's expected range for the Canadian Dollar against the major currencies:
US Dollar             1.2550-1.2650
Euro                     1.4850-1.4950
Sterling                1.7300-1.7400
20.09.2022
Today's expected range for the Canadian Dollar against the major currencies:
US Dollar             1.3250-1.3350
Euro                     1.3250-1.3350
Sterling                1.5150-1.5250
16.09.2021
Today's expected range for the Canadian Dollar against the major currencies:
US Dollar             1.2600-1.2700
Euro                     1.4850-1.4950
Sterling                1.7450-1.7550