Currency Exchange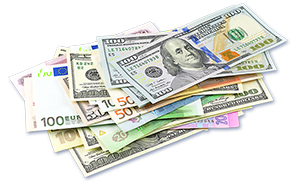 KANTOR CURRENCY EXCHANGE specializes in selling and buying foreign currency. We offer professional and reliable services to all our customers and guarantee the following:
Competitive rates
Over 70 foreign currencies available for sale, including USD, EURO, GBP, CHF, JPY, AUD, MXN, ILS and many others (Some restrictions apply)*
No service fees or commissions on all transactions regardless of the form of payment
Spot and forward transactions
Foreign currency wire transfers
KANTOR CURRENCY EXCHANGE offers the following payment methods:

Cash

Business Cheque (regular/certified)

Bank Draft

Wire Transfer
KANTOR CURRENCY EXCHANGE accepts the following payment methods:
Cash
Certified Cheque
Money Order/Bank Draft
Direct Debit/Interac (for amounts up to $1000 if your card does not have an embedded chip)
Wire Transfer
NOTE: CREDIT CARDS ARE NOT ACCEPTED AS A PAYMENT METHOD ON ANY CURRENCY EXHANGE TRANSACTIONS (online purchases excepted).
KANTOR CURRENCY EXCHANGE operates in accordance with the requirements of the Canadian Federal Law, which stipulates that all transactions equal to or exceeding CAD $3,000.00 have to be accompanied by a proper proof of identity document.
Acceptable identification documents include Driver's License, Passport, Birth Certificate, Permanent Resident Card, Citizenship Card, or similar government issued identification displaying the following:
Full legal name
Date of birth
Photo
All identification documents must be current and original (No photocopies are accepted). Neither Ontario Health Card nor credit cards are considered proper identification.
* All amounts exceeding US $10,000.00 should be ordered in advance over the telephone, fax or e-mail. For all other currencies, please call our offices to check stock availability.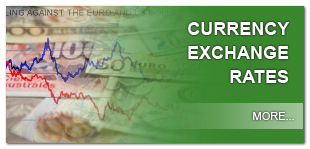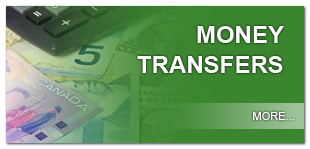 | | | | |
| --- | --- | --- | --- |
| Code | Currency | We Buy | We Sell |
| 1 USD | American Dollar | 1.3315000 CAD | 1.3655000 CAD |
| 1 EUR | Euro | 1.4075000 CAD | 1.4765000 CAD |
| 1 GBP | Great Britain Pounds | 1.6222000 CAD | 1.7020000 CAD |
| 1 CHF | Swiss Franc | 1.4517000 CAD | 1.5301000 CAD |
| 1 JPY | Japanese Yen | 0.0089080 CAD | 0.0093660 CAD |
| 1 AUD | Australian Dollar | 0.8328000 CAD | 0.8912000 CAD |
| 1 MXN | Mexican Pesso | 0.0753700 CAD | 0.0824400 CAD |
| 1 ILS | Israeli shekel | 0.3313000 CAD | 0.3792000 CAD |
| 1 HNL | Honduras Lempira | 0.0383300 CAD | 0.0711900 CAD |
| 1 JMD | Jamaican Dollar | 0.0079330 CAD | 0.0094170 CAD |
| 1 DOP | Dominican Republic Peso | 0.0218700 CAD | 0.0256800 CAD |
| 1 BSD | Bahamian Dollar | 0.9457000 CAD | 1.4088000 CAD |
| 1 KYD | Cayman Islands Dollar | 1.3505000 CAD | 1.7623000 CAD |
| 1 SCP | Scotland Pound | 1.6088000 CAD | 1.7001000 CAD |
| 1 MYR | Malaysian Ringgit | 0.2649000 CAD | 0.3082000 CAD |
| 1 GTQ | Guatemala Quetzal | 0.1581000 CAD | 0.1856000 CAD |
| 1 DKK | Danish Krone | 0.1853000 CAD | 0.2008000 CAD |
| 1 BGN | Bulgarian Lev | 0.6768000 CAD | 0.7872000 CAD |
| 1 SEK | Swedish Krona | 0.1151000 CAD | 0.1254000 CAD |
| 1 NIP | Northern Ireland Pound | 1.6088000 CAD | 1.7001000 CAD |
| 1 KWD | Kuwaiti Dinar | 4.0251200 CAD | 4.6377000 CAD |
| 1 PEN | Peru Nuevo Sol | 0.3329000 CAD | 0.3907600 CAD |
| 1 IQD | Iraq Dinar | 0.0008768 CAD | 0.0012890 CAD |
| 1 CZK | Czech Koruna | 0.0547300 CAD | 0.0629700 CAD |
| 1 AWG | Aruba Florin | 0.0000100 CAD | 0.8672000 CAD |
| 1 BND | Brunei Dollar | 0.9274000 CAD | 1.0458100 CAD |
| 1 ZAR | South African Rand | 0.0659000 CAD | 0.0762400 CAD |
| 1 UYU | Uruguayan Peso | 0.0248500 CAD | 0.0443900 CAD |
| 1 KRW | Korean (South) Won | 0.0009402 CAD | 0.0010710 CAD |
| 1 PKR | Pakistan Rupee | 0.0039360 CAD | 0.0052800 CAD |
| 1 IDR | Indonesia Rupiah | 0.0000808 CAD | 0.0000948 CAD |
| 1 CRC | Costa Rica Colon | 0.0022950 CAD | 0.0027480 CAD |
| 1 ARS | Argentine Peso | 0.0000010 CAD | 0.0047510 CAD |
| 1 BRL | Brazilian Real | 0.2549000 CAD | 0.2934000 CAD |
| 1 LTC | Litecoin cryptocurrency | 1.0001000 CAD | 184.0000000 CAD |
| 1 SGD | Singapore Dollar | 0.9376000 CAD | 1.0264500 CAD |
| 1 AED | United Arab Emirates Dirham | 0.3460000 CAD | 0.3866000 CAD |
| 1 JOD | Jordan Dinar | 1.7719000 CAD | 2.0386800 CAD |
| 1 OMR | Oman Rial | 3.2621000 CAD | 3.7268000 CAD |
| 1 INR | Indian Rupee | 0.0149400 CAD | 0.0173900 CAD |
| 1 COP | Colombian Peso | 0.0003143 CAD | 0.0003758 CAD |
| 1 BMD | Bermuda Dollar | 0.8768000 CAD | 1.6863000 CAD |
| 1 ETH | Ethereum cryptocurrency | 1.0001000 CAD | 3218.0000000 CAD |
| 1 SAR | Saudi Arabia Riyal | 0.3350000 CAD | 0.3818000 CAD |
| 1 UAH | Ukrainian Hryvna | 0.0303500 CAD | 0.0391400 CAD |
| 1 PLZ | Polish Zloty | 0.2911000 CAD | 0.3316000 CAD |
| 1 NOK | Norvegian Krone | 0.1207000 CAD | 0.1295000 CAD |
| 1 ISK | Iceland Krona | 0.0090060 CAD | 0.0106900 CAD |
| 1 CNY | Chinese Yuan | 0.1737000 CAD | 0.1941000 CAD |
| 1 BZD | Belize Dollar | 0.5686000 CAD | 0.7694000 CAD |
| 1 BTC | Bitcoin cryptocurrency | 47000.0000000 CAD | 47000.0000000 CAD |
| 1 RON | Romanian Leu | 0.2691000 CAD | 0.3097000 CAD |
| 1 TRY | Turkish Lira | 0.0458600 CAD | 0.0538500 CAD |
| 1 PHP | Philippine Peso | 0.0215800 CAD | 0.0256300 CAD |
| 1 NZD | New Zealand Dollar | 0.7690000 CAD | 0.8270000 CAD |
| 1 HUF | Hungarian Forint | 0.0034220 CAD | 0.0040180 CAD |
| 1 CLP | Chilean Peso | 0.0013940 CAD | 0.0016380 CAD |
| 1 EGP | Egyptian Pound | 0.0319300 CAD | 0.0554600 CAD |
| 1 BBD | Barbados Dollar | 0.5944000 CAD | 0.7195000 CAD |
| 1 KES | Kenyan Shilling | 0.0082470 CAD | 0.0099000 CAD |
| 1 QAR | Qatar Rial | 0.3154000 CAD | 0.3970000 CAD |
| 1 THB | Thai Baht | 0.0350700 CAD | 0.0395500 CAD |
| 1 MAD | Moroccan Dirham | 0.0984400 CAD | 0.1641000 CAD |
| 1 HKD | Hong Kong Dollar | 0.1649000 CAD | 0.1797000 CAD |
| 1 XCD | East Carribean Dollar | 0.4594000 CAD | 0.5344000 CAD |
| 1 BHD | Bahraini Dinar | 3.3067000 CAD | 3.8099000 CAD |
| 1 TWD | Taiwan Dollar | 0.0356700 CAD | 0.0453400 CAD |
| 1 VND | Vietnamese Dong | 0.0000462 CAD | 0.0000668 CAD |
Rates effective as of 2023-09-21 10:45:02 EST