PacWest regional bank stock falls 48% after Fed's latest interest rate hike
04.05.2023
PacWest regional bank stock falls 48% after Fed's latest interest rate hike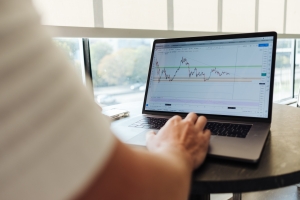 Today's expected range for the Canadian Dollar against the major currencies:
US Dollar         1.3600-1.3700
Euro                 1.5000-1.5100
Sterling            1.7050-1.7150
WTI Oil (opening level) $68.78
The US Dollar index is marginally stronger this morning but that is only after it weakened off yesterday following the announcement from The Federal Reserve that they were increasing their benchmark rate by 0.25% but indicated any future interest rate hikes or cuts would be bases on market data, Fed Chair Powell also indicated that the economy may yet avoid a recession and that the US banking system is solid. This announcement was made just as the latest regional bank to come under the microscope PacWest had its stock fall 48% yesterday and is reportedly looking for a buyer, clearly the banking crisis is not over and will continue to weigh on the stock market and could push the US Dollar a lot higher if investors lose confidence in the system and start looking for safe haven assets.
The Canadian Dollar had an up and down performance yesterday and it has settled back in around the 1.3600 (0.7353) level so overall not a bad performance for the Loonie considering what is going on. This morning the Canadian balance of trade showed the economy moved back into surplus in March and was higher than economists were predicting which may help to hold off recession talk here in Canada. This report may help the Loonie a little today but an oil price that continues to drop on global economic fears continues to weigh on the Loonie and may stop any appreciation.
After a tough day yesterday, stocks are again pointing lower as the nervousness about the US banking system continues to weigh on the market which should be led lower by financials and energy stocks. I don't see the Loonie going on a big run but if it stays near the 1.3600 level for the short-term that should be a win for the Canadian Dollar.
Comment (0)
Also read
15.06.2023
Today's expected range for the Canadian Dollar against the major currencies:
US Dollar         1.3300-1.3400
Euro                 1.4400-1.4500
Sterling            1.6850-1.6950
05.09.2023
Today's expected range for the Canadian Dollar against the major currencies:
US Dollar         1.3600-1.3700
Euro                 1.4600-1.4700
Sterling            1.7100-1.7200