While the market awaiting the debt negotiations resolution, the Greenback sharply declined against other safe haven currencies
16.05.2023
While the market awaiting the debt negotiations resolution, the Greenback sharply declined against other safe haven currencies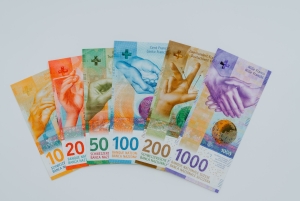 Today's expected range for the Canadian Dollar against the major currencies:
US Dollar         1.3400-1.3500
Euro                 1.4600-1.4700
Sterling            1.6800-1.6900
WTI Oil (opening level) $70.98
The US Dollar index is marginally weaker this morning as the markets await word on today's meeting between the Democrats and Republicans on raising the debt ceiling, if there is no resolution soon Treasury Secretary Yellen has indicated that the US Government will run out of money by the end of the month. Interestingly enough the Greenback has its biggest overnight declines against the other so-called safe haven currencies including the Japanese Yen and Swiss Franc which would support my thoughts that if the US Governments defaults you will see a big drop in the value of the US Dollar.
The Canadian Dollar has picked up some small gains against most currencies, USD.CAD opens up the day near the 1.3460 (0.7429) level as the market awaits the latest inflation data. Economists are expecting that the annualized inflation rate in Canada dropped in April to 4.1% which would be down from the 4.3% in March. As I have said before a slowing rate of inflation should keep the Bank of Canada on the sidelines for the time being.
We also get some US data today in the form of Retail Sales this morning but I think the market will be solely focused on the debt negotiations for the rest of the week.
Comment (0)
Also read
08.09.2023
Today's expected range for the Canadian Dollar against the major currencies:
US Dollar          1.3550-1.3650
Euro                 1.4600-1.4700
Sterling            1.7000-1.7100
10.11.2022
Today's expected range for the Canadian Dollar against the major currencies:
US Dollar             1.3500-1.3600
Euro                     1.3425-1.3525
Sterling                1.5550-1.5650
10.02.2023
Today's expected range for the Canadian Dollar against the major currencies:
US Dollar        1.3400-1.3500
Euro                1.4350-1.4450
Sterling           1.6200-1.6300