The Greenback edged up against the Euro after poor European economic numbers
24.07.2023
The Greenback edged up against the Euro after poor European economic numbers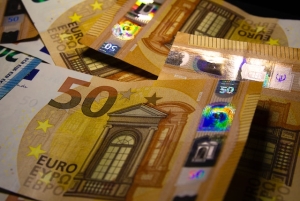 Today's expected range for the Canadian Dollar against the major currencies:
US Dollar         1.3150-1.3250
Euro                 1.4600-1.4700
Sterling            1.6900-1.7000
WTI Oil (opening level) $77.49
The US Dollar index is marginally stronger this morning as some poor economic numbers out of the EU has helped to push the Greenback a little higher. Overall sentiment remains for a weaker Dollar as the market gets set for lots of Central Bank activity this week. The Fed will increase interest rates a quarter point this week (Wednesday) but more importantly the market will be looking to see if the Fed is finished with hikes for the rest of the year.
The Canadian Dollar rally has once again petered out and USD.CAD is back range trading near the 1.3200 (0.7576) level to start the week. With the overnight weakness in the Euro and Sterling our Dollar did pick up some gains against those currencies so overall not a bad start to the week for the Loonie.
Nothing of note on the calendar today, the markets should remain steady ahead of Wednesday's announcement from the Fed. Stocks were mostly lower overnight but North America is pointing to a positive opening but they could quickly turn negative giving a little support to the Dollar today.
Comment (0)
Also read
21.02.2023
Today's expected range for the Canadian Dollar against the major currencies:
US Dollar         1.3400-1.3500
Euro                 1.4300-1.4400
Sterling            1.6250-1.6350
12.08.2022
Today's expected range for the Canadian Dollar against the major currencies:
US Dollar             1.2750-1.2850
Euro                     1.3100-1.3200
Sterling                1.5500-1.5600
23.08.2022
Today's expected range for the Canadian Dollar against the major currencies:
US Dollar             1.2975-1.3075
Euro                     1.2900-1.3000
Sterling                1.5300-1.5400