Pressure on the Greenback continues as the Fed is supposed to pause the interest rate hikes, while the European Central Bank is continuing raising it
31.07.2023
Pressure on the Greenback continues as the Fed is supposed to pause the interest rate hikes, while the European Central Bank is continuing raising it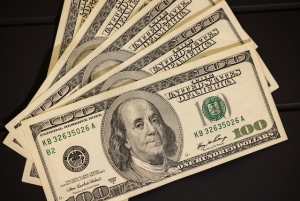 Today's expected range for the Canadian Dollar against the major currencies:
US Dollar         1.3200-1.3300
Euro                 1.4550-1.4650
Sterling            1.6950-1.7050
WTI Oil (opening level) $81.36
The US Dollar index is marginally higher this morning but as the month comes to a close the Dollar index will be lower by over 1% which will be the second month in a row of declines for the Greenback. The fact that the Fed is looking to be pausing on further interest rates hikes and the European Central Bank will continue to increase rates continues to weigh on the US Dollar.
The Loonie continues to range trade in the 1.3200-1.3300 range, this week it opens the market near the bottom end of the range as the Loonie may be getting a little benefit from the oil price that is now above the $81 price per barrel. Friday's GDP report showed that the Canadian economy is starting to show signs of weakness as the Bank of Canada interest rate hikes take hold on the economy. The second quarter GDP report showed a decline of 0.2% which serves to hurt the Loonie and may prevent further long-term strength. Also hurting the economy is the growing number of jobs actions that unions are taking in the face of runaway inflation, from the port strike in Vancouver to the new grocery workers strike in Ontario these job actions will reduce output and help to slow the economy.
After a strong day on Friday stocks are again poised to move higher, with a light calendar to start the new month the currency market should remain range bound and stocks continue to move forward throughout the day.
Comment (0)
Also read
11.01.2023
Today's expected range for the Canadian Dollar against the major currencies:
US Dollar             1.3400-1.3500
Euro                     1.4400-1.4500
Sterling                1.6250-1.6350
19.12.2022
Today's expected range for the Canadian Dollar against the major currencies:
US Dollar             1.3600-1.3700
Euro                     1.4450-1.4550
Sterling                1.6600-1.6700
12.01.2022
Today's expected range for the Canadian Dollar against the major currencies:
US Dollar             1.2500-1.2600
Euro                     1.4200-1.4300
Sterling                1.7050-1.7150