The Loonie took an advantage today of the Greenback weakness and jump in the oil price
21.08.2023
The Loonie took an advantage today of the Greenback weakness and jump in the oil price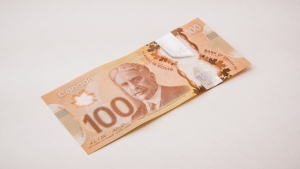 Today's expected range for the Canadian Dollar against the major currencies:
US Dollar         1.3450-1.3550
Euro                 1.4700-1.4800
Sterling            1.7200-1.7300
WTI Oil (opening level) $82.33
The US Dollar index opens the week a little weaker after it has traded stronger for the past five weeks. A worrying Chinese economy, US interest rates moving higher and weaker than expected global stocks which traded weaker again overnight are all helping to push the US Dollar higher. The expectation is still for the US Dollar to move higher at least until we hear from the Federal Reserve at their next meeting.
The Canadian Dollar was able to pick up some small gains against the US Dollar overnight, it was helped higher by a $2 jump in the oil price and the overall weakness in the US Dollar. USD.CAD dropped to open the day near the 1.3500 (0.7407) level after it traded near a high of 1.3550 (0.7380) during the overnight session. I still favour US Dollar buyers buying something on any kind of dips so keep an eye on it today and see if the rate drops any more.
Not a busy week for the economic calendar, a lot of the market focus this week will be on the annual Jackson Hole Central Bank symposium where economist will be watching for any clues on what is happening with global interest rates. Currency markets should remain fairly stable barring any surprises from the meeting.
Comment (0)
Also read
24.01.2022
Today's expected range for the Canadian Dollar against the major currencies:
US Dollar             1.2575-1.2675
Euro                     1.4225-1.4325
Sterling                1.7000-1.7100
25.05.2021
Today's expected range for the Canadian Dollar against the major currencies:
US Dollar         1.2000-1.2100
Euro                 1.4700-1.4800
Sterling            1.7050-1.7150
01.08.2023
Today's expected range for the Canadian Dollar against the major currencies:
US Dollar         1.3250-1.3350
Euro                 1.4500-1.4600
Sterling            1.6900-1.7000