Jerome Powell made clear that the Fed is not in a rush to raise the rate, but the fight against inflation isn't over
25.08.2023
Jerome Powell made clear that the Fed is not in a rush to raise the rate, but the fight against inflation isn't over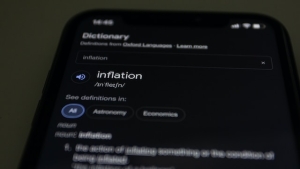 Today's expected range for the Canadian Dollar against the major currencies:
US Dollar         1.3525-1.3625
Euro                 1.4650-1.4750
Sterling            1.7100-1.7200
WTI Oil (opening level) $79.93
The US Dollar index is marginally higher this morning as the market awaits the speech by Fed Chair Powell this afternoon at the Jackson Hole symposium. From everything I read there is a growing perception that the Fed will push through another interest rate hike next month which at the moment is pulling US bond yields higher and hurting the stock market. Investors will be watching to see if Powell still thinks the US economy is strong enough to withstand another rate hike before the Fed starts to pause on rates.
It is the opposite case in Europe where that economy is reporting some poor numbers in the face of an ECB that will still have to hike interest rates to quell inflation that is quite high. EUR.USD had a tough night as it fell 100 points at one point before pulling back a little higher this morning.
The Canadian Dollar had a tough 24 hours as USD.CAD moved back up near the 1.3600 (0.7353) level as it still trades at the mercy of the Greenback, it managed to hold its own against the other currencies but that is just because they are also weak. At the moment I still don't see any path to sustained Canadian Dollar strength.
After another tough day yesterday, stocks are pointing higher on the opening but that of course can change quickly depending on what Powell says this afternoon.
Comment (0)
Also read
25.04.2022
Today's expected range for the Canadian Dollar against the major currencies:
US Dollar             1.2700-1.2800
Euro                     1.3650-1.3750
Sterling                1.6200-1.6300
17.04.2023
Today's expected range for the Canadian Dollar against the major currencies:
US Dollar         1.3350-1.3450
Euro                 1.4650-1.4750
Sterling            1.6550-1.6650
09.02.2021
Today's expected range for the Canadian Dollar against the major currencies:
US Dollar         1.2700-1.2800
Euro                 1.5350-1.5450
Sterling            1.7500-1.7600