The U.S. economy expanded at an annual rate of 2.1% during the second quarter, which is below the market expectations of 2.4%
31.08.2023
The U.S. economy expanded at an annual rate of 2.1% during the second quarter, which is below the market expectations of 2.4%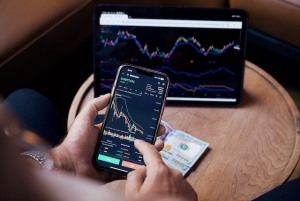 Today's expected range for the Canadian Dollar against the major currencies:
US Dollar         1.3500-1.3600
Euro                 1.4700-1.4800
Sterling            1.7125-1.7225
WTI Oil (opening level) $82.05
The US Dollar index is marginally stronger as a drop in the Euro this morning has helped to push the Dollar index higher. European inflation for July came in at 5.3% which was the same as June's number and a little below market expectation, investors are now expecting the ECB to hold off on an interest rate hike in Europe next month so the Euro will continue to trade with a weak bias.
Yesterday saw the report that the US economy grew 2.1% in the 2nd quarter which is slightly better that the 2.0% in the first quarter but below the market expectation of 2.4%. The Dollar received a small boost on this report but nothing to get too excited about, the report should help the camp that favours another interest rate hike in November.
The Canadian Dollar continues to range trade in a narrow band as it awaits it's next move. USD.CAD opens the day near the 1.3540 (0.7386) level as it traded in a 30 point range over the last 24 hours, Sterling was a little stronger overnight so the Loonie lost some ground to the Pound but did manage to pick up some small gains against the Euro.
Lots of data out of the US today including Personal Spending and Income and also an early look at inflation with the release of the Core PCE Price index. This index is something the US Federal Reserve will watch closely to see what is happening with inflation and if we see a jump in this report then the US Dollar should jump as the likelihood of an interest rate hike in the US will jump higher. 
Comment (0)
Also read
06.07.2023
Today's expected range for the Canadian Dollar against the major currencies:
US Dollar         1.3250-1.3350
Euro                 1.4450-1.4550
Sterling            1.6950-1.7050
12.01.2023
Today's expected range for the Canadian Dollar against the major currencies:
US Dollar             1.3350-1.3450
Euro                     1.4375-1.4475
Sterling                1.6200-1.6300
15.03.2023
Today's expected range for the Canadian Dollar against the major currencies:
US Dollar         1.3750-1.3850
Euro                 1.4500-1.4600
Sterling            1.6550-1.6650