The Canadian economy may fall into a technical recession
05.09.2023
The Canadian economy may fall into a technical recession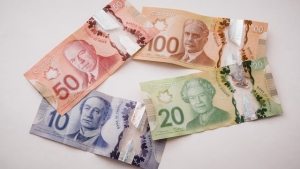 Today's expected range for the Canadian Dollar against the major currencies:
US Dollar         1.3600-1.3700
Euro                 1.4600-1.4700
Sterling            1.7100-1.7200
WTI Oil (opening level) $85.27
The US Dollar index starts the first full week of September stronger as weak economic news out of China helped push the Dollar higher on the overnight markets. On Friday, the dollar jumped a little as the US Employment report came in slightly better than expected (187K new jobs) which will leave room for the Federal Reserve to increase interest rates at their November meeting if they see the need. Goldman Sachs who had long been a naysayer on the US economy this morning published a report that states the US economy is less likely to head into a recession this fall, if this is true then once again the Fed will have room to increase interest rates to help fight inflation.
It is not a rosy picture here in Canada as the GDP growth rate fell to 0.2% last month, another negative recording of the GDP growth rate and our economy will be in a technical recession leaving little room for the Bank of Canada to increase interest rates at their meeting. As you could guess the Loonie lost a lot of ground to the US Dollar with USD.CAD moving higher to trade at 1.3670 (0.7315) before pulling back a little early in the overnight session. On a positive note, the Loonie has recovered against the Euro and Pound as those currencies were much weaker overnight.
It is a big week on the calendar for the Loonie as on Wednesday we get the Bank of Canada interest rate announcement and their outlook on the economy, on Friday we get the Employment report for August. The US calendar is quiet this week and with the US Stock market looking for quiet opening the US Dollar should remain supported throughout the session.
Comment (0)
Also read
28.01.2021
Today's expected range for the Canadian Dollar against the major currencies:
US Dollar         1.2825-1.2925
Euro                 1.5500-1.5600
Sterling            1.7500-1.7600
04.08.2021
Today's expected range for the Canadian Dollar against the major currencies:
US Dollar         1.2500-1.2600
Euro                 1.4850-1.4950
Sterling            1.7450-1.7550
07.12.2020
Today's expected range for the Canadian Dollar against the major currencies:
US Dollar         1.2775-1.2875
Euro                 1.5500-1.5600
Sterling            1.7000-1.7100