Canadian dollar takes advantage of the weaker USD index
17.05.2022
Canadian dollar takes advantage of the weaker USD index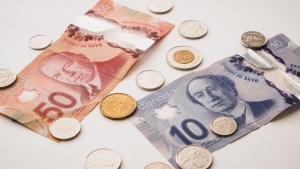 Today's expected range for the Canadian Dollar against the major currencies:
US Dollar             1.2800-1.2900
Euro                     1.3450-1.3550
Sterling                1.6000-1.6100
WTI Oil (opening level) $114.50 (Oil price is up $5.00 from yesterday's opening level)
The US Dollar Index was again weaker this morning and this makes the third session in a row that the Greenback has given back some strength. This morning it was comments from ECB officials which indicated that at the very least a 25 basis point hike in EU interest rates was coming but if inflation remained high then they could consider even higher interest rates. Stocks were also higher last night indicating that the fear of a recession may be waning and investors are not that risk averse as previously thought.
EUR.USD jumped to trade as high as 1.0540 this morning so for the moment it looks like the talk of parity to the US Dollar is off the table. GBP.USD also jumped a lot higher as the currency pair reached a high of 1.2485 where it trades at the moment which is the pairs highest level since early May.
The Canadian Dollar was able to take advantage of the weaker US Dollar and once again USD.CAD has rebuffed the 1.3000 (0.7692) level and moved lower. The Loonie did not have a good night against the other currencies as GBP.CAD jumped from a low of 1.5820 to trade as high as 1.6010 overnight and EUR.CAD moved higher as well trading at 1.3510 as I write. With all that is going on in Europe at the moment it remains to be seen if these currencies can keep up their momentum.
Lot of US Secondary data due out today including the US Retail Sales report for April, Stocks are pointing much higher on the opening so I would not be surprised if the Loonie was able to make some more small gains against the US Dollar.
Comment (0)
Also read
02.08.2023
Today's expected range for the Canadian Dollar against the major currencies:
US Dollar         1.3250-1.3350
Euro                 1.4550-1.4650
Sterling            1.6950-1.7050
16.05.2023
Today's expected range for the Canadian Dollar against the major currencies:
US Dollar         1.3400-1.3500
Euro                 1.4600-1.4700
Sterling            1.6800-1.6900
13.06.2022
Today's expected range for the Canadian Dollar against the major currencies:
US Dollar             1.2825-1.2925
Euro                     1.3400-1.3500
Sterling                1.5600-1.5700