Euro jumps as the ECB announces another interest rate hike
08.09.2022
Euro jumps as the ECB announces another interest rate hike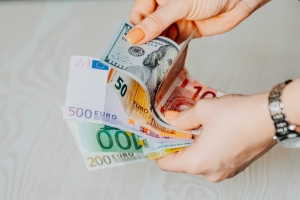 Today's expected range for the Canadian Dollar against the major currencies:
US Dollar             1.3100-1.3200
Euro                     1.3100-1.3200
Sterling                1.5100-1.5200
WTI Oil (opening level) $82.40
The US Dollar index is marginally weaker this morning as both the Euro and Pound have jumped higher on the expectation that the European Central Bank will announce a 0.75% interest rate hike in an attempt to tackle runaway inflation that is plaguing the continent. Given the energy crisis that is ongoing at the moment I am not sure just how long the Euro will stay strong but for the moment it has staged a small recovery, prior to the announcement EUR.USD is trading back above 1.000 and EUR.CAD is at 1.3150 so a significant pre-announcement move for the Euro.
The Bank of Canada as expected yesterday increased Canadian rates by 0.75% and again as expected the Loonie had a muted response. Right after the announcement the Loonie lost a little ground with USD.CAD moving higher but as the Dollar weakened off the Loonie was able to make some small gains. Overnight the Loonie gave up some strength to the Euro and Pound so overall the Loonie continues to hang in and hold onto existing levels but still looks vulnerable to further weakness. Looking forward the Bank once again indicated that inflation is their main concern so we can expect more interest rate hikes before the end of the year.
As I write the ECB has in fact announced a 0.75% increase to their key lending rate and the EUR.USD rate has so far held steady above the 1.0000 level but looks like it may start to drop a little, most of the strength for the Euro was already priced in and we may now see it give back some gains.
After a strong day yesterday, stocks are pointing higher on the opening and with little on the North American calendar look for the Dollar to again to pick up some small strength against the Euro and Pound.
Comment (0)
Also read
28.12.2021
Today's expected range for the Canadian Dollar against the major currencies:
US Dollar             1.2800-1.2900
Euro                     1.4475-1.4575
Sterling                1.7150-1.7250
21.12.2022
Today's expected range for the Canadian Dollar against the major currencies:
US Dollar             1.3600-1.3700
Euro                     1.4450-1.4550
Sterling                1.6475-1.6575
08.03.2022
Today's expected range for the Canadian Dollar against the major currencies:
US Dollar             1.2800-1.2900
Euro                     1.3750-1.3850
Sterling                1.6750-1.6850