Stocks rise, while the dollar slips after the Consumer Price Index report announcement
14.02.2023
Stocks rise, while the dollar slips after the Consumer Price Index report announcement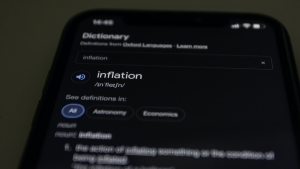 Today's expected range for the Canadian Dollar against the major currencies:
US Dollar         1.3250-1.3400
Euro                 1.4300-1.4400
Sterling            1.6200-1.6300
WTI Oil (opening level) $79.16
The US Dollar index is marginally weaker this morning as the market gets ready for the all-important US January inflation report. The market is expecting a year-over-year inflation rate of 6.2% which would be down from the December 6.5% increase, market investors will be waiting to see what will happen with the number before expectation on the next round of interest rate hikes from the Fed starts to come out.
Ahead of the announcement the Canadian Dollar is a little stronger against the Greenback as USD.CAD has fallen to the bottom end of the range and opens the day near the 1.3320 (0.7508) level. The Loonie has lost some ground to both the Euro and Pound as those currencies had a strong overnight session.
Ahead of the report stocks are showing a small jump on the opening and that is after a strong day yesterday.
Post Inflation Report
The US January inflation report showed that inflation in the US came in at 6.4% last month which is a little more than economists expected but still down month over month. In response the US Dollar is weakening off with USD.CAD falling to trade at 1.3300 (0.7519) as I write. Stocks are moving a little higher on the report so market expectation could be that lower inflation will keep the Fed slowing the pace of interest rate hikes.
Comment (0)
Also read
29.09.2022
Today's expected range for the Canadian Dollar against the major currencies:
US Dollar             1.3650-1.3750
Euro                     1.3150-1.3250
Sterling                1.4800-1.4900
04.03.2021
★ Get to know when is the best time to purchase different currencies
★ Stay updated with the latest currency and stock markets news
★ Be informed of the world economic situation
23.08.2021
Today's expected range for the Canadian Dollar against the major currencies:
US Dollar             1.2650-1.2750
Euro                     1.4850-1.4950
Sterling                1.7350-1.7450