Euro Zone inflation report numbers pushed Euro to rise
30.03.2023
Euro Zone inflation report numbers pushed Euro to rise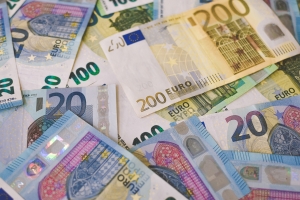 Today's expected range for the Canadian Dollar against the major currencies:
US Dollar         1.3500-1.3600
Euro                 1.4700-1.4800
Sterling            1.6700-1.6800
WTI Oil (opening level) $73.66
The US Dollar index is weaker this morning as the Euro Zone inflation report showed that prices rose last month on an annualized basis at a rate of 7.8% which was lower than the previous month but still ahead of the market expectation of 7.5%. EUR.USD jumped from an overnight high of 1.0875 to trade at 1.0900 and EUR.CAD also rose to trade at 1.4785 as I write. It looks like the Dollar will remain weak against the Euro over the next couple of days.
The Canadian Dollar continues to make small gains against the US Dollar as USD.CAD has slipped to trade near the 1.3550 (0.7380) level, the Loonie will be front and centre tomorrow when we get the GDP report for and the market will see if Canada is going to start a recession.
Stocks are set to have a second positive day in a row as the banking crisis seems to have abated for the moment, the US Dollar should remain on the back foot as we await further news from the Federal Reserve on interest rates.
Comment (0)
Also read
21.07.2021
Today's expected range for the Canadian Dollar against the major currencies:
US Dollar         1.2650-1.2750
Euro                 1.4900-1.5000
Sterling            1.7250-1.7350
04.10.2022
Today's expected range for the Canadian Dollar against the major currencies:
US Dollar             1.3600-1.3700
Euro                     1.3450-1.3550
Sterling                1.5400-1.5500
05.05.2022
Today's expected range for the Canadian Dollar against the major currencies:
US Dollar             1.2725-1.2825
Euro                     1.3450-1.3550
Sterling                1.5800-1.5900