The European market opening pushed the US dollar to lose some strength
11.04.2023
The European market opening pushed the US dollar to lose some strength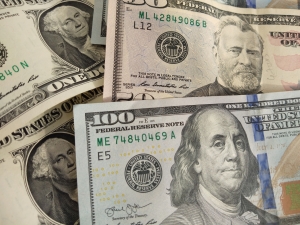 Today's expected range for the Canadian Dollar against the major currencies:
US Dollar         1.3450-1.3550
Euro                 1.4700-1.4800
Sterling            1.6750-1.6850
WTI Oil (opening level) $79.40
The US Dollar index is marginally weaker this morning as the European markets opened up after their Easter holiday break. The Greenback gave back some of the small gains it made from Friday's employment numbers in what was a fairly quiet overnight session, traders are now awaiting tomorrow's inflation report to get a sense of what the Fed will do with interest rates in early May.
The Canadian Dollar is unchanged against the US Dollar and again opens the day near the 1.3500 (0.7407) level, the Loonie did lose some ground to the other currencies overnight as it gave back the strength it picked up yesterday. Overall, the Loonie continues to range trade ahead of the Bank of Canada announcement tomorrow.
Nothing of note on the calendar today with the exception of a couple of Federal Reserve committee members giving speeches, FX markets should remain fairly steady as they await the US inflation report and the Bank of Canada announcement tomorrow.
Comment (0)
Also read
25.08.2021
Today's expected range for the Canadian Dollar against the major currencies:
US Dollar             1.2600-1.2700
Euro                     1.4800-1.4900
Sterling                1.7300-1.7400
08.09.2023
Today's expected range for the Canadian Dollar against the major currencies:
US Dollar          1.3550-1.3650
Euro                 1.4600-1.4700
Sterling            1.7000-1.7100
23.06.2023
Today's expected range for the Canadian Dollar against the major currencies:
US Dollar         1.3150-1.3250
Euro                 1.4300-1.4500
Sterling            1.6750-1.6850