Fed likely to pause interest rate hikes due to signs of labor slack
24.04.2023
Fed likely to pause interest rate hikes due to signs of labor slack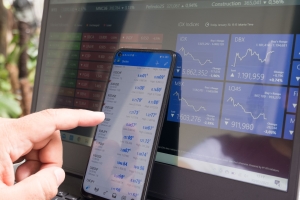 Today's expected range for the Canadian Dollar against the major currencies:
US Dollar         1.3500-1.3600
Euro                 1.4850-1.4950
Sterling            1.6800-1.6900
WTI Oil (opening level) $77.68
The US Dollar index is marginally higher this morning but overall, it is still trading with a weaker bias as month over month the US Dollar should continue to drop. While investors still expect another interest rate hike next week it is looking more than likely that the Fed will then pause any further rate hikes and will look to move interest rates lower towards the end of the year and into 2024.
During a couple of days at the end of the last week the Loonie lost considerable ground to the US Dollar and other currencies. This morning USD.CAD opens the day near the 1.3550 (0.7380) level as the rate dropped a little lower from its overnight high near 1.3570 (0.7369). I still don't expect a big run for the Loonie but if the Fed does announce that it will pause interest rate hikes next week then the Loonie could pick up a little strength but the question will be "can it maintain that strength"? As we have seen over the last few years it has not been able too but we shall see what happens.
Stocks are pointing lower to start the week in what will be a busy week on the economic calendar front with a lot of GDP data on both sides of the border later in the week. Nothing of note on tap for today so it should be a relatively quiet day, look for the Loonie to remain near present levels throughout the session.
Comment (0)
Also read
05.07.2021
Today's expected range for the Canadian Dollar against the major currencies:
US Dollar         1.2325-1.2425
Euro                 1.4625-1.4725
Sterling            1.7025-1.7125
15.08.2022
Today's expected range for the Canadian Dollar against the major currencies:
US Dollar             1.2850-1.2950
Euro                     1.3100-1.3200
Sterling                1.5550-1.5650
28.02.2023
Today's expected range for the Canadian Dollar against the major currencies:
US Dollar         1.3550-1.3650
Euro                 1.4350-1.4450
Sterling            1.6400-1.6500