A good start of the week for the Loonie, as it holds gains against major currencies
19.06.2023
A good start of the week for the Loonie, as it holds gains against major currencies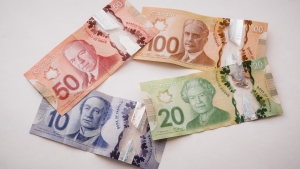 Today's expected range for the Canadian Dollar against the major currencies:
US Dollar         1.3150-1.3250
Euro                 1.4400-1.4500
Sterling            1.6875-1.6975
WTI Oil (opening level) $71.75
The US Dollar index is marginally stronger to start the week in what was a quiet overnight session. Investors will now settle in and weigh the possibility of another Federal Reserve interest rate hike next month as they continue to monitor the health of the US economy. The Euro which had been well supported by interest rate hikes in Europe lost a little ground overnight so it may be topping out from its most recent run.
The Canadian Dollar has done quite well to start the new week with USD.CAD dropping to 1.3185 (0.7584) before pulling back a little higher this morning. The Loonie has also held onto gains against the other currencies so overall a good start to the week.
Lots of secondary data on the calendar this week, this morning we get some Canadian inflation data out in the form of the Producer price index and it is expected to show further drops in prices to manufacturers. After a tough day on Friday stocks are poised to drop again this morning, it is a holiday in the US today so we will only have data out of Toronto but the US will play catch-up tomorrow.
Comment (0)
Also read
02.11.2020
Today's expected range for the Canadian Dollar against the major currencies:
US Dollar         1.3250-1.3350
Euro                 1.5450-1.5550
Sterling            1.7150-1.7250
21.12.2021
Today's expected range for the Canadian Dollar against the major currencies:
US Dollar             1.2900-1.3000
Euro                     1.4550-1.4650
Sterling                1.7050-1.7150
01.04.2021
Today's expected range for the Canadian Dollar against the major currencies:
US Dollar         1.2550-1.2650
Euro                 1.4750-1.4850
Sterling            1.7300-1.7400