U.S. job openings dropped to the lowest level in 2,5 years which provoked investors to sell off the dollars
30.08.2023
U.S. job openings dropped to the lowest level in 2,5 years which provoked investors to sell off the dollars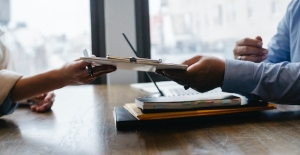 Today's expected range for the Canadian Dollar against the major currencies:
US Dollar         1.3500-1.3600
Euro                 1.4700-1.4800
Sterling            1.7100-1.7200
WTI Oil (opening level) $81.68
The US Dollar index is marginally stronger this morning but that is after it fell quite a bit yesterday. The market yesterday reacted to the report that the number of US job openings in July fell to a 2 1/2 year low and investors sold off the dollar as any negative US economic news is changing the perception of an interest rate hike in November. Stocks were able to end the day higher but they too will also be vulnerable to any US negative economic news, if the US Employment report on Friday shows slowing job growth, then the Dollar may take another hit.
The Canadian Dollar was able to take advantage of the big drop yesterday as USD.CAD opens the day down at 1.3560 (0.7375) which is about an 80-point drop from the highs of yesterday. As the other currencies also made gains the Loonie lost a little ground to both the Euro and Pound so if the US Dollar recovers today then the Loonie will quickly give back the strength from yesterday.
Up today we get some 2nd quarter US GDP numbers and it is expected that the economy grew close to 2.4% which is higher than the 2% growth rate in the first quarter. A strong showing by the economy would be considered good enough for the Fed to continue increasing interest rates in November so the US Dollar may jump higher and stocks fall back.
Comment (0)
Also read
22.04.2021
Today's expected range for the Canadian Dollar against the major currencies:
US Dollar         1.2450-1.2550
Euro                 1.5000-1.5100
Sterling            1.7325-1.7425
29.03.2021
Today's expected range for the Canadian Dollar against the major currencies:
US Dollar         1.2550-1.2650
Euro                 1.4800-1.4900
Sterling            1.7400-1.7500
09.08.2023
Today's expected range for the Canadian Dollar against the major currencies:
US Dollar         1.3400-1.3500
Euro                 1.4700-1.4800
Sterling            1.7050-1.7150