The Loonie continues to be subject to the whims of the Greenback
16.11.2023
The Loonie continues to be subject to the whims of the Greenback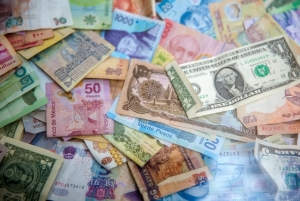 Today's expected range for the Canadian Dollar against the major currencies:
US Dollar        1.3675-1.3775
Euro                1.4850-1.4950
Sterling           1.6950-1.7050
WTI Oil (opening level) $76.18
The US Dollar index is marginally stronger this morning as the US economic data from yesterday still indicates that the US economy remains strong despite the high level of interest rates. With October Retail Sales falling for the first time in months by less than the market expectation investors are becoming more comfortable with the US Federal Reserve keeping interest rate high for a longer period which will benefit the US Dollar over the short-term.
The Canadian Dollar seems to have suffered the most from the stronger US Dollar as USD.CAD jumped to trade at 1.3730 (0.7283) last night before falling back a little. A further drop in the oil price overnight did little to support the Loonie so for the moment it still looks like the Loonie will continue to be subject to the whims of the US Dollar.
The calendar is light today with some US Federal Reserve members giving speeches around the country, stocks after a couple of strong days are set to open lower so it would not surprise me if we saw some further US Dollar strength today.
Comment (0)
Also read
28.04.2022
Today's expected range for the Canadian Dollar against the major currencies:
US Dollar             1.2850-1.2950
Euro                     1.3450-1.3550
Sterling                1.5950-1.6050
05.07.2022
Today's expected range for the Canadian Dollar against the major currencies:
US Dollar             1.2950-1.3050
Euro                     1.3300-1.3400
Sterling                1.5500-1.5600
16.01.2023
Today's expected range for the Canadian Dollar against the major currencies:
US Dollar             1.3350-1.3450
Euro                     1.4450-1.4550
Sterling                1.6300-1.6400